Ugliest Dogs Ever Seen
Still waiting for game benchmarks...

Ditto. Sometimes a system's true colors don't show until you've benchmarked modern games on it.
---
Dogs VS Cats funny picture;
bedifferent
Apr 27, 09:32 AM
None of which are affecting my day to day life. However, since you say I can't go on living my life until all other worldly issues are resolved, I will be waiting for a e-mail letting me know when I can resume going about my daily routine.

* Newsflash You can do both *

Until then, I will stay fixed in front of my computer screen. :rolleyes:

This argument that we shouldn't worry about anything because bigger things are going on has got to stop. It's the most disingenuous comment you can make.

Wow, I don't know what's worse, your apathy or the irony. They're called "priorities" and some people need to get theirs together… that would be called "reality"...

PS voting my comment down and others who like my comment, funny… in a sad way… ;)
---
sweaters, ugly christmas
The mermon G5s should be out before summer.
---
to dogs (or cats).
backdraft
Jul 29, 05:57 PM
well I'd rather see a ppc update...
---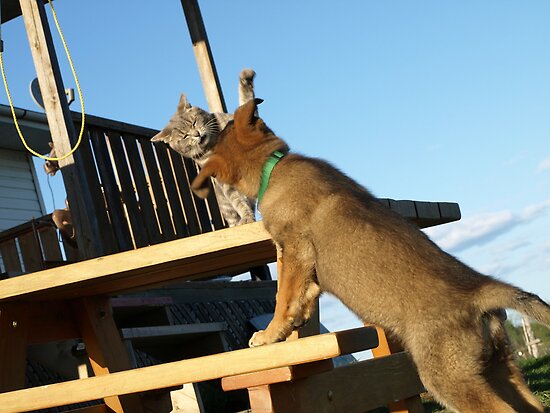 funny cats and dogs video.
Before yesterday?

Are you serious?
---
Cats or dogs? - Page 7
silverblue3
Aug 26, 07:49 PM
What's the GPU on the new mbp gonna be? Bring on the SLI GPU's ;) Will give alienwares a run for their money.
---
With more and more stray cats
I don't know, I thought Spaces and Time Machine looked very polished, personally. Spaces in particular is one of those things that I actually think will be genuinely useful (like Expose before it), and I like that it seems to be an even more useful implementation of the virtual desktops concept than what I've seen in Linux.


I was refering to things such as the finishing touches, ala unified interface and what not. I remember seeing how much dashboard evolved in the previews to what it is today...dramatically different
---
ever seen an ugly dog?
Oh I see, and by questioning his birthplace you, Trump, Palin and your ilk are really criticizing his policies. Wow, again, you proved the old mantra, if you can't dazzle them with brilliance, baffle them with BS.

This is Trump's MO. And it's working! Even if you don't like Obama's politics, you have to admit that Obama has much more class than Trump.
---
Anyone know what types of dogs
Nothing impressive really... top secrets should be good.

Time Machine is ok. It looks awful for an Apple product, what is up with that background? Ugly. And I really want to know how much disk space it will be taking backing everything up constantly. I would most likely turn it off.
---
dog love cats mice dogs loyal
glassbathroom
Aug 17, 09:11 AM
Aren't there 2 chips though?

Doh! Yes, I new there was something wrong. Not planning on doing this anyway.
---
Ugly Cats (46 pics) middot; Dogs
1. It's Merom. Not Memrom, Menron, Memron or even L. Ron.

2. It won't be any cooler and it won't have greater battery life, period. Unless Apple has an amazing new design in store.

3. If you really, really, need a Merom, you should wait until the Santa Rosa platform so you don't complain that you got the inferior Merom. :rolleyes:

That is all.

These kinds of arguments are always lame.

1. People have lifes, not everyone is as much as a geek as you to know exactly how many transistors are in the next Intel processor. That is a code name by the way, Steve is not going to step up and go "Merom Macbook Pros!" on stage. He will look like a Moron.

2. So? Who is Apple to tell me how much of an improvement I should expect from something? When's the last time you seen Ford advertise "05 Ford Falcon! Fuel efficiency lags behind competing models by under 10%, same old reliable Ford Falcon with 2 year old design, still at same old price of $19,999"

If there is even so much as 0.001% of improvement you are gonna see Steve step up onto the keynote like a lappy dog and brag it to sound like it is greater than the 2nd coming of Jesus. That's sales 101 for you.

3. Meroms support 64 bit code. 64 bit code like Leopard (although we don't know for sure), or code like Vista x64 (that is 100% for sure). Sure, you might not mind running things in half arsed modes like some Frankinstein hybrid 32/64 bit system like Tiger is, but some people might actually *gasp* appreciate the ability to judge 64 bit code. Get off your high horse already, if you disagree just keep it to yourself. Not like your arrogant rants contributed anything either.
---
For dogs and cats.
blahblah100
Mar 31, 03:54 PM
It's because of the Buy One Get One option. Nothing more. People choose that option because it makes financial sense and if they don't really care about the OS or the phone, they will choose the one that fits their check books. If Apple was to OK ATT and VZ to do a Buy One Get One on the iPhone, there would be no comparison. It would be game over for Android.

-LanPhantom

Ironically, most of the people on this forum said iPhone on Verizon would be game over for Android.

This 'game over for Android' reminds me a lot of the 'this is the year of desktop linux' stuff that has been said every year for the last 9.
---
and had dogs and cats.
I've called Apple twice in the past week (on Saturday morning and this morning) and I received excellent support both times!

They answered my questions in a very timely manner.

I'm very hard on Support people because I did Technical Support for years and expect the highest level of support, which I've always received from Apple.

I've also been a .Mac subscriber since it was released and I've never had a problem with it. Yes, I'm currently getting those stupid stock SPAMS, but so is everyone else. I always check to see the address of where the e-mail is coming from, waiting for that day that my addresss is there and I've never see a .mac.com address in the "From" column. It's a great service and much better than the other e-mail services that I use.
---
Who needs dogs and cats?
Many years ago a media levy was passed in the United States that applies a "tax" to "consumer digital audio" media (CD-R blanks, DAT, etc.) with the proceeds going to music industry/artists. The justification was to offset losses due to illegal copying of music in digital form (generational loseless copies). This to date hasn't been expanded to include devices like the iPod (at least I don't recall that taking place).

This appears to be an attempt to expand that levy...

Note in Canada they have a similar levy that "taxes" all digital media that could store audio (not just "consumer digital audio" media) but IIRC it fell short of being applied to the iPod as well. Also many many other countries have similar laws.

In my opinion these types of levies should never have been enacted into law... they presume customers will engage in criminal activity and punish them before hand. :(

To bad the wrong precedent was set...
---
school for dogs and catsquot;,
raymondso
Sep 19, 09:18 AM
0710 PDT - no updates yet - keep counting :-(
1:40 to go :p
---
American dog in france
1) Who says the people who actually make the music would get any of this money in the first place?

My bet is that artist's contracts only pay out on music sales, not hardware royalties. Thus the cdrom tax and ipod royalties are profits they don't have to share with artists despite their pious rhetoric about how they need these revenues because piracy hurts recording artists.
---
of World#39;s Ugliest Dog
Don't understand that there needs to be a pissing contest about Xoom OR ipad.

Why are the Xoom guys even here on a Mac site, to tell us THEIR device is better?

Let's even assume they are right.
Go buy your Xoom and be happy if it does what you want No harm, no foul.

The Apple users buy Apple until something better comes along also as long as it does what they want.
They love the possible integration with their other devices and when that comes to Xoom or something else is better they will switch.

Technology pace is amazingly fast and nobody knows what is next.

Perhaps Xoom owners are on here because we own multiple devices and like all of them. Just because I'm using an Android device doesn't mean that I'm forever barred from reading and posting on a Mac forum.

Reading through the existing 8 pages, most of the Xoom owners aren't saying their device is better; rather, they're (we're) providing comments around what Android can do. To be quite honest, the defensive and snarky comments are coming from those that are not Xoom owners. Really makes me wonder why they are so defensive and strident, you know? Deflection? Insecurity? Projecting?

Yes, I'm being a smartass, no one needs to get their panties in a wad.
---
funny dogs with guns
milozauckerman
Jul 27, 06:49 PM
looking at reference systems - for $2049, Gateway's Core 2 Duo gets the 2.4GHz/4MB L2 cache Conroe, 2GB of RAM from the factory, an x1900 512MB graphics card, 320GB hard drive, card reader and DL DVD burner.

Apple had better step its game up compared to the prices/specs rumored last week. A weak graphics card and 512MB of RAM aren't going to cut it in the low tower, even if it does have XEON INSIDE or whatever the marketing pitch will be to distract us.

EDIT: Dell would be even cheaper, with a lesser video card, but there doesn't seem to be a way to separate the XPS 410 from the included 20in monitor as of now.
---
That#39;s the UGLIEST dog I ever
Steviejobz
Mar 22, 01:03 PM
Can I exchange my iPad 2 for this Playbook?

I really like the minimal app appearance of the Playbook compared to Apple's cluttered group of tens of thousands of applications.
---
Again, Fivepoint, you forget that the President was selling the Iraq war with suspicious and weak information that the many questioned. It turns out they were right. Pre-war, the big issue was whether the war was justified based on the evidence being pushed by the President. The criticism President Bush faced thereafter had a lot to do with the fact that he lied to the American people in order to start a poorly planned war. They bungled every aspect of a war they lied to get us into. There were plenty of reasons to be critical.

Even so, in the FIRST DAYS of the war, even the lefties supported the troops and the American military, they merely questioned whether we should be going to war.

This Libya conflict is similar in that there are people on the left today questioning whether we should be "going to war" with this no-fly zone, but there are also people who support the reason behind it, but also question why we haven't gone into other countries where there are similar humanitarian issues.

Out of curiousity, what do you expect? I expect conservative congressmen and women to support a conservative president, but to think for themselves, and do what they independently think is right. I don't respect blind support like what they did under GWB. Similarly, I expect liberal congressmen and women to support a liberal president, but to also think for themselves, and do what they independently think is right. Some are speaking out, and some are not blindly supporting President Obama. Can you acknowledge that the liberals are doing a better job with consistency than the GOP? If not, how do you explain GOP opposition to the Libya action?
---
If you read my original post, you'll notice that I was referring to the fact that many programmers are careless about optimizing their code all because they can count on a large amount of resources, and because they get lazy.

I think anyone programming above assembly language and/or on a device with more than about 16K of memory, gets lazy :)

Most Mac programmers are good at optimizing, while many Windows programmers are not.

Where does Apple's horrible iTunes for Windows fit into this myth?
---
epitaphic
Sep 13, 12:47 PM
Anyone seen this?

http://images.dailytech.com/nimage/1775_large_longtermroadmap.png

The real architecture changes are coming June then June then June 2012. With derivatives in the years between.

So Merom(Merom Santa Rosa)/Conroe/Woodcrest(Clovertown) are the end of the road of separate chips. No more mobile/desktop/sever chip... all are the same (should expect mobiles to have the lowest MHz, then desktop, then toping out with server)

And what's interesting is that each architecture change will be a leap in performance similar to Pentium D to Conroe transition. (source) (http://www.dailytech.com/article.aspx?newsid=2649)

Screw Tigerton, Penryn's next (probably June 2007)
---
I have a new 3.0 Intel- just letting you know they are not as close as Rob's test under real world performance. Adobe camera raw really screamed on my G5 and is noticibly slower and a bit buggy on my new Mac Pro. Start up is alot slower, etc, etc. He only tested MP aware processes which isn't the whole picture.

The Photo Retouch artist test puts the Mac Pro 3.0 about 33% slower than the quad G5- but I think that test is skewered to the G5s liking. I think it's somewhere in the real world realm of 12% slower than my G5 quad. Not quite as good under Rosetta [5%?] that Rob posts, but not quite as bad as some other tester's results. The finder and other apps are noticebly faster, even against the fast quad.

I went for the mac pro as a web designer able to run windoze now. CS2 gets some but not alot of excersize. Other comparisons- the storage is awesome, super easy, super quiet. This machine is about 75% the noise of my G5, add the quiet firmtek 2 drive SATA i ran with the quad, and the Mac Pro is about 50% quieter. [By the way if anyone needs a 2 drive firmtek external SATA II case with PCIe card and cables, it is looking for a new home now. It was a great case for the g5 and is about 6 months old- http://www.amug.org/amug-web/html/amug/reviews/articles/firmtek/2en2/]

My 2 cents!

mac Pro 3.0
3bg ram
2 x 2 drive stripe raids
Std graphics card.
---
Next Air will see a DRAMATIC speed improvement CPU wise and a minor decrease in GPU performance.

The GPU performance decrease is much more severe that you let on, and the improvement in CPU is rarely even used, as it sits in the idle loop most of the time as most applications are mostly i/o bound or simply sit there waiting for user input.

Also, let's not forget 2 other major points :

- VDA (Video Decode Acceleration) framework support : Intel 3000HD isn't supported, forget hardware accelerated decoding of Flash content in H.264. This has been a major lacking point on Apple's part since introducing the framework and getting rid of nVidia chipsets, they haven't yet announced any change to this framework which right now only supports the 9400m, the 9600m and the 320m.

- OpenCL. Big selling point for Snow Leopard, absent from most of their hardware line-up now. GG Apple.

The Air with the 320m right now supports both. The SB MBP 13" does not.

The main thing keeping me from wanting a MBA for software development is the 4GB RAM limit. If you're not running any virtual machines you'd probably do just fine with 4GB, but as soon as you need to run a Windows VM things will get painful (especially if you're running Visual Studio in it).

I run a Windows VM with 1 GB of dedicated memory and a Linux VM with 1.5 GB of dedicated memory. All while Xcode is open and doing something in every OS.

Seriously, software development is about the less ressource hungry task you can do on modern computers. Browsers use more system ressources nowadays than code editors/compilers/debuggers. :rolleyes:
---