is the New York Times
Do you mean Vista Premium compliance? I'm pretty sure I've seen "Ready for Vista" stickers on plenty of current notebooks featuring GMA950 graphics, for example.

And btw, I have to say "good job" to Apple for doing whatever was necessary to avoid having to put a bunch of goofy decals on their computers. The most amazing thing to me is the number of PC notebook users that leave all those stickers on (I've even seen some people leave the "features" stickers on).

Looks like GMA950 is "good enough" for the Premium sticker. From what I'd read from Intel, it sounded like you needed X3000 if you wanted better than the "Compliance" sticker, but I guess Intel want to sell newer, more expensive chipsets ;)

Still, based on what I've read about it thus far, if I had to have one, I'd rather have GMA950. Tho' right now I lean towards not buying anything that lacks discrete graphics.

As for stickers... I don't really care, to be honest. They just peel off anyway. Probably a win for Apple purely because the lack of them looks much "cleaner" for the demo models in the store, and I doubt the majority of people take any notice of them. Most won't even know what they mean, I suspect.
---
The New York Times is a good
This wont end androids openness. It will make is so that there is more of a consistent experience amung all android devices.

Oh, then I can take the Honeycomb source code and do whatever I want with it?

Oh, wait, I can't? Then how doesn't this make Android 'closed source'?
---
in the New York Times?
iJohnHenry
Mar 5, 09:38 AM
Even if every single homosexual on Earth decided not to raise a child (which is far from the truth), we do not all have to make/raise babies to propagate the species.

Quite true about 'continuation', but economic models probably require that we do, in order to keep the pyramid growing at the base.
---
from the New York Times
Intel did indeed force Apple to use their IGP by not licensing other vendors to provide IGPs. The reason the MBP 13" and MBA 13" use IGPs and not dedicated GPU is one of space. Apple can't magically conjure up space on the logic board.



I push the GPU more often than I push the CPU on my MBA. I doubt I'm in the minority, though I'm probably part of the minority that actual knows this little fact. ;)

No matter how much you try to spin this, Intel got greedy on this one and couldn't back their greed with competence. They have sucked at GPUs since they have been in the GPU game (Intel i740 anyone ?).

I don't think 2IS is getting that IF Intel allowed Nvidia to continue making sandy bridge chipsets, Nvidia could've easily integrated a 320m successor into the south bridge. This would give you the best of both worlds, the downclocked Low-voltage Intel HD graphics when on battery or basic surfing, or the 320m successor in the south bridge when playing games or aperture photo editing. All this WITHOUT raising the motherboard chip count that putting a separate discrete (on it's own, not integrated into the chipset like 320m) would entail.
---
The New York Times#39; Times
Well I'm excited about Leopard and look forward to it's release. Rightly so should Apple keep hushed about what ever new features are to be added. Those nay sayers out there to Leopard should wait until they use it before they begin crucifying it, after all what hand did they have in the development of OS X??

Only thing that plays on my mind is whether some new features will be limited to Pro line Macs. I recall when Dashboard first came about iBooks couldn't display the ripple effect for example whereas Powerbooks could. I certainly hope we MacBook owners won't suffer the same fate with things like the new iChat, Mail or what ever.
---
The New York Times Co. said
There are serious electrical and physical problems with jacking up clock speeds much further than they are now. Intel managed to push their chips to 3.8GHz, but the power consumed was tremendous.Fixed
---
News room of the New York
Reminds me of a true story - went into one of those pre-made sandwich shops because I need to feed a horde unexpectedly, and quickly. I asked for all their stock of three different kinds of sandwich. The woman behind the counter said "but sir what will we sell to other people!".

Bizarre way to run a business.

Scenario 1: Store expects 1000 customers. Customer 15 walks in and buys all the store's stock. The remaining 985 customer walk in through the day and are told we have nothing to sell you. These 98.5% of the daily customers never return to the store in the future.

Scenario 2: Store expects 1000 customers and rations stock to serve the needs of the greatest percentage of their daily customers as possible. The great majority of customers are happy and continue to patronize the store in the future.

Scenario 2 above does not seem so bizarre to me.

We are talking business here, business that needs to function over time and not just over one day. All I know is there are a lot of people here who are taking great pleasure trashing a store for their own personal reasons. But the store must serve their overall client base as best as possible and sometimes that may mean being unable to satisfy every specific request every day.
---
The New York Times.
princealfie
Nov 29, 08:58 AM
Time for Apple to change the paradigm again. I think it's time for Apple to start putting together a music production house. Offer musicians the ability to go direct to iTunes with all the marketing necessary to promote their catalogs. I'm not very familiar with the music industry, but I "think" Apple is quite prepared to create their own studios, handle their own promotion/marketing and already have a HIGHLY efficient distribution system in place. Granted, they are not supposed to be creating music according to their Apple Music agreement, but if they just bought Apple Music outright it would make a great fit, eh?

B

Perhaps we need to have a iTube website eh?
---
New York Times newspaper on
Riemann Zeta
Apr 27, 09:42 AM
Whether or not the behavior of this cache was in fact "a bug", I think the update that flushes the cache files when Location Services is disabled will settle the issue.
---
of the New York Times
scottsjack
Apr 25, 02:35 PM
Strange but using the downloaded software my 3Gs running the latest iOS doesn't show very many of the places I've been. I drove 400 miles this weekend using the 3Gs for navigation and a photo. Even that trip doesn't show. All I can see is a bunch of evenly-spaced dots in my area.
---
the new york times newspaper
Apple's solution is fine by me. They wouldn't have done anything if there wasn't so much press about it, but I guess that's a good reason (one of the only ones) for the press to exist.

Interestingly, this behavior of waiting for things to blow up in the press before they are addressed will only lead to MORE things getting blown up in the press. Maybe Apple likes that? I dunno.
---
The New York Times
Does no one else think this event will only be about leopard? If they release any hardware, it's going to be the mac pro, and even that will only get five minutes of attention. (The xserves seem logical too because of what processors they are using) No other hardware, just leopard leopard leopard.

Also, I don't see this as being as monumental of a release as everyone is making it out to be. There are some features that I would like to see implimented, but I'm not holding my breath. This is not to say that I'm being pessimistic, though.

I think we will see some better game support, performance and security enhancements (for all the flaunting Apple has been doing about their security, they had better give us some security worth flaunting!), and something to do with bootcamp. (I still love the name!)

Other minor things I'm expecting are the ability to put widgets on your desktop (without using some sort of "dev mode" like you do now), having multiple dashboards that can be assigned to different hotkeys, enhancements to most of the bundled apps ala the report from friday, and of course the updated finder.

Oh, and finder. I don't think it will have tabs at all. Instead, I think your equivelant of tabs will appear in the left column, along side the favorite folders and drives. Notice how your harddrives/volumes is separated from your favorite places, picture a second separater there and below that your active folders. And for god's sake, give me a directory tree! :rolleyes:

Vista doesn't concern me much, and it shouldn't concern Apple. Tiger still kicks Vista's ass up one side and down the other, then up the first side again for good measure. Has anyone else here tried the vista beta? It's such a pain to use, and I've been a windows user since DOS. I see no reason why Vista should be so... unintuitive other than to try and compete with OSX. If they don't do some serious rethinking on it, Apple will continue to enjoy quite a bit of growth. ;)
---
New York Times building
I was under the assumption that the money paid to Universal was to allow the streaming of music from one device to another. I assumed that was the real reason behind the payment.

Seeing as Apple does not stream music to random devices, they shouldn't have to pay a royalty.

I don't think I voiced my opinion about this last time it was brought up, but I reckon although the iPod makes enough profit so as not to pass that royalty onto the consumer (in price), I would still feel like I was paying that royalty, were I to buy an iPod.

If I felt like I paid a royalty, and was already downloading songs legally from iTunes anyway, I'd want to download more stuff illegally than I have before, just to make use of that royalty.

That's what I will do if I have to buy an iPod in the future with a pre-paid royalty. You heard me... this tactic will only encourage more piracy. Stupid really !
---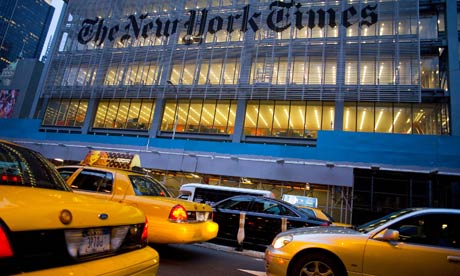 The New York Times building,
The thing I like least about this rumor is that it specifies only a 320GB harddrive.

The current configs (quad g5) were released in October of last year, in that time harddrive capacities have increased well beyond that (320) small number.

The new machines will get 500GB drives I have to believe.

:confused:
---
Wire room of the New York
I LOL'd. I owned iPad 1 for a year, and while it's nice, it's a FAR, FAR cry from the productivity capabilities of the current gen MBA.

Like it or not, iPad is SEVERELY CRIPPLED for content creation (i.e. real work), but excels at content CONSUMPTION. That's factual and completely undebatable. Everyone knows this.

So, no, it's not "something better". It's a more viable choice for entertainment and consumption. That's it.

I didn't say I use it for content creation or production capabilities. Desktop power. Screen real estate. I'll take my iMac with 24" screen over a notebook at 11.6 or 13.3. And my graphics and cpu power over that in an MBA. And when I want something instant on, and quick access, and light and mobile, I've got an iPad 2. Sorry, but read the whole post. I apologize if I'm not one of those people who kids themselves into thinking that a notebook is a viable "real work" machine.
---
Will The New York Times meter
Pretty underwhelmed by Leopard to be honest. Time Machine looks like the best new feature, but i doubt that I'll even use it that much. But does it really matter? OS X is the best OS out there, its still a significantly better than anything MS can produce. Its stable, doesn't crash, freeze, lock up. Its secure. It does everything you want without the hassle you get from XP. In truth it doesn't even need to be updated. It works and thats the most important thing to me as a user.

I'm happy with Tiger and unless there's something significant that will be in Leopard, i doubt that I'll upgrade unless I get a new Intel Mac.
---
NYT newspaper, New York Times
sososowhat
Sep 13, 09:50 AM
One could run a Folding@Home process on each core :D
---
NEW YORK TIMES Newspaper 9 11
Why wouldn't Apple also just release a VZ iPhone 5 in June/July time frame also. It shouldn't matter that VZ was late to the party and only just now got the iPhone. Apple has made their money off the VZ folks that have been waiting forever for the iPhone, and then June/July Apple can make their money off the rest. I recently just got my iPhone 4 replaced for free by Apple due to a faulty sleep/wake button, so I'm more concerned with iOS 5, but I still want to see new Apple hardware soon!
---
New-york-times-newspaper-by-
gnasher729
Aug 26, 06:09 PM
I believe the 2.33 GHz Merom chip debuted at the same price as the 2.16 GHz Yonah when it was released. The prices of MBPs certainly haven't fallen. Apple has just been enjoying the extra profits from Intel's price drops of the past few months.

At that time, Apple upgraded all MacBook Pros to the next faster chip without changing prices.
---
LOL at all of the people saying it's a big mistake and bad move on Apple's part. They know what they are doing. Why would they do something that would hurt their iPhone sales?!

No. I think people are just saying it's a stupid rumor.

Tony
---
epitaphic
Sep 13, 02:00 PM
I think you've misunderstood. Merom/Conroe/Woodcrest are one microarch now. That's Intel's point -- the core is essentially the same.

Conroe and its derivatives are a step away from Intel's former flagship NetBurst, but even these processors are a bit of a dying breed: during Intel's shift to 45nm, the company will no longer focus on derived microprocessor cores in favor of refined unified core architectures.
So what do you think they meant with M/C/W being a derived arch and Penryn,etc being unified archs?

From what I understood, they'll stop having different characteristics (FSB,RAM,Cache) and instead just differentiate them with MHz and core count. Hence all the stories that future Intel chips (starting with Penryn I presume) won't use FSB.
---
glassbathroom
Jul 28, 03:18 AM
It absolutely will!!! Leopard is just going to be mostly beneficial for dual-core machines. Read this article:

http://macosrumors.com/20060710A1.php

Leopard sounds FAST!

MOSR is always good for a laugh, but don't be fooled into believing any of it.
---
sososowhat
Aug 7, 03:17 PM
The new HW is fine, but Leopard is exciting! I'll look forward to this as I have all the big cats. Time machine is a great idea; love the additions to iChat & spotlight.
---
Bill McEnaney
Apr 27, 12:17 PM
He hasn't been carrying this around for 50 years. Did you actually read the article?
I read most of it. I haven't been carrying my birth certificate. It spent most of its time im Mom's china closet, where it still faded.
---